Silhouette 8609 sunglasses are made of Titanium; intensive research has enabled Silhouette to evolve the high-tech metal to meet the special demands of eyewear production. Titanium is particularly elastic and at the same time extremely sturdy. These sunglasses have complete protection against UVA, UVB and UVC radiation up to 400nm.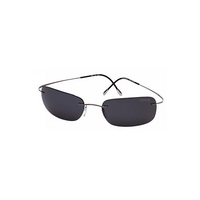 Features:
Unisex
Metal
Minimalist
Rectangular
UV400 protection
Silhouette case
SAVE £28.80 off the RRP only £115.20
Find more Silhouette Sunglasses >

Metal Sunglasses > Unisex Sunglasses >
Please note that all prices and offers are correct at time of posting but please check these are still accurate once you have reached purchase screen.