You don't have to pay a fortune for your prescription sunglasses. It is possible to get a fantastic pair of designer sunglasses at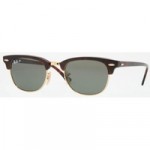 discounted prices that also include your prescription lenses.
If you think you are stuck to getting your prescription sunglasses from you opticians think again. All you have to do is find the designer brand and style you like and then add your prescription and off you go!
Try looking at Ray Ban Clubmaster sunglasses they are unisex; made of plastic and metal; available with polarized lenses and give your eyes the UVA and UVB protection they need.
Find more designer sunglasses at discounted prices>