When choosing sunglasses one of the main factors you need to consider is how much UV protection they give your eyes.
You already know that ultra violet rays or UV rays are harmful to your skin if it is exposed without protection. Not having any UV protection for your eyes can cause problems including cataracts later in life.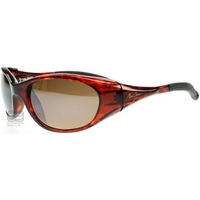 When buying sunglasses you should look for a sticker or label stating what UV protection they will give your eyes. Look for no less than 100%, many designer brands offer 400 UV protection. Something you will also want to consider is the style of your chosen sunglasses. It is all well and good to buy a lens that gives you the advised UV protection, but not so good if the style is one that has small lenses and large gaps at the sides. This would mean your eyes are only protected from the front; UV rays can get to your eyes from the gaps at the sides.
Find many discounted designer sunglasses that offer the best UV protection for your eyes>
Polarised sunglasses reduce glare and increase contrast sensitivity. Sportsmen and women began wearing them decades ago, but today they are worn by anyone wanting quality sun protection for their eyes.
Light becomes polarised when it hits a surface. This is where the photons in the light all vibrate in one direction instead of random directions. When this happens it causes the 'glare' reflected from the surface, a car window for example; this glare distorts the colour of objects therefore making them harder to see.
Polarised sunglasses work in a similar way to a venetian blind, the blind blocks light from certain angles while still allowing light from other angles to filter through. The lenses filter out some of the reflected glare and allow other light waved to pass through to your eyes. A polarising lens works when it is positioned at a 90 degree angle to the source of the glare. Polarised sunglasses are designed to filter horizontal light and are mounted vertically in the frame; they are aligned carefully so that they properly filter the light waves.
The polarised lenses need to have some colour as it is not possible to polarize light without colour. The darker the colour the higher the level of polarization. You need to choose the colour of your lenses depending on the reason you are wearing them, each colour affects vision in different ways.
Gray – transmits all colours evenly. It is good for everyday use. Especially good for use around the sea where the water tends to be blue in colour.
Brown – improves contrast and depth perception so is good for driving. Light brown is good for use on overcast days and is popular with the fashion conscious as brown is flattering to the face.
Red – mainly used for sports in bright and sunny places.
Orange and Yellow – filter out blue light and increase contract sensitivity, perfect for driving on a cloudy day.
Green – keeps a good balance among the colours of light and is popular with tennis players and golfers.
Blue – allows a large amount of blue light to filter through so is good for partly cloudy weather.
Copper – provides maximum contrast, so it is best for any activity where good vision is important.
Many designers have a polarised range of sunglasses; please see below for a selection of the main designers.
Polaroid, Bolle, Oakley, Ray Ban, Maui Jim, Arnette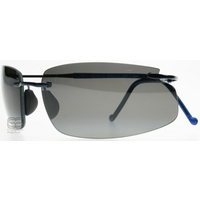 Top Russian tennis player Elena Dementieva prefers to wear Maui Jim sunglasses on and off the court. With excellent UVA/UVB/UVC protection combined with top performance they are the prefect choice for any budding tennis player. You do not have to play tennis to wear these stylish sunglasses; the durability and style make them the perfect choice for walking around town as well as sitting on the beach. All Maui Jim sunglasses block 100% UV up to 400nm.